Our bungalow is called Langsteert, as the islanders call a pheasant. You can find these birds around the bungalow and walking freely on the island.
Our non-smoking bungalow is suitable for up to 6 guests. There are 3 bedrooms, 2 upstairs and 1 downstairs. There is a living room downstairs with chimney, comfortable couch, dining table and kitchen. There is a stereo installation with IPOD and USB connection as well as a TV with DVD's and a selection of board games. Quick free wifi is available. Downstairs is a big kitchen with sauna, bathtub and shower.
The kitchen is fully equipped with among others an oven, microwave, fridge and dishwasher. Next to the kitchen is a storage with comfortable pillows and an ironing board. Two large doors lead from the living room to the terrace, which has a glass exterior to keep the wind out. Outside the terrace there is more space attached to the bungalow.
Upstairs are two more bedrooms of which one has a beautiful terrace with great view over the golfcourse and bungalow park. There is also a second toilet upstairs. All bedrooms have boxspring beds en a large wardrobe. You can find a babybed in the largest bedroom, a baby chair and baby bath can be picked up at the reception. Renting bedsheets from the park is mandatory and will be present at your arrival. When you make your reservation you can indicate if you want your beds made upon arrival or if you want to do it yourself. Renting towels is optional, cleaning costs by the park for after your arrival is mandatory.
For more reviews, please have a look at our Airbnb page.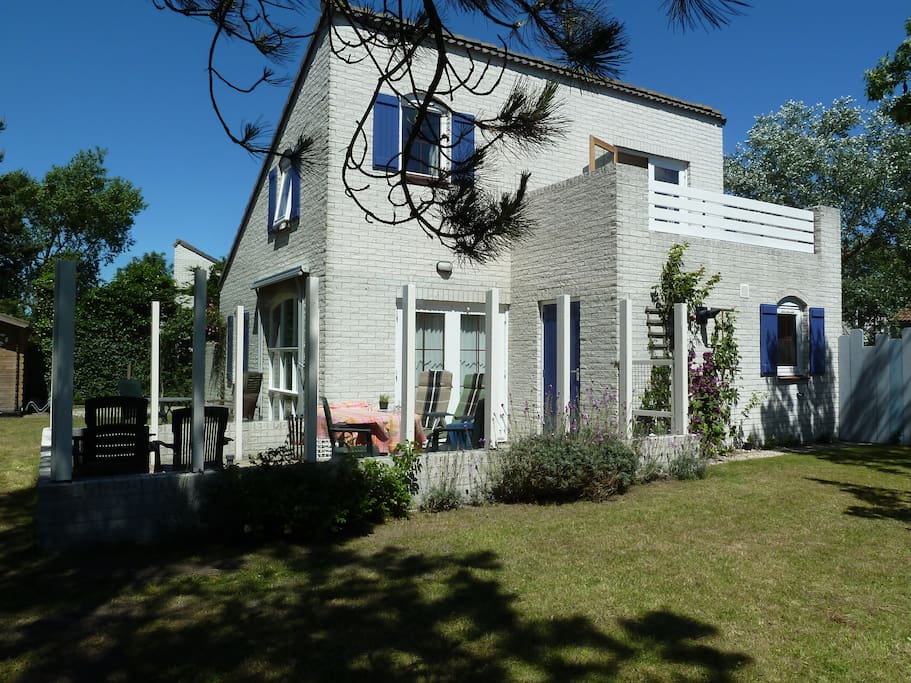 Luxury bungalow with amazing view!
Great location with tremendous view on the dunes and part of the golf course. If you love birds and rabbits in the back yard, this is the place. Amenities also great, with fire place and sauna!
Renate and Anja were fast and very friendly in their replies. The house is exactly as described and shown in the photos, all working perfectly and clean! The beach is located in a walking distance and we saw several animals (also in the garden, rabbits were playing around). We definitely recommend the place!
Great location, great views. House includes a fireplace and sauna. Perfect for our holiday.
Plek met heel veel mogelijkheden. Mooi gelegen aan de buitenkant van het park. Voldoende privacy maar hoop activiteiten op het park ook. Leuk huisje waar je prima kan verblijven en bij mooi weer lekker in je eigen tuin met uitzicht kunt zitten.
Een oase van rust met vrij uitzicht op de golfbaan. Heerlijk en goed uitgerust huis, rustig gelegen aan de rand van het park, heel mooi uitzicht en elke ochtend de beestjes in de tuin (konijntjes, fazant). De sauna is een fijne bonus. Keuken is uitstekend voorzien. Slapen gaat heerlijk op de goede bedden en in de donkerte & stilte.
Martijn
December 7, 2020.
Het huisje van Renate en Anja is een hele fijne plek en van alle gemakken voorzien. Je zit dicht bij het strand en een natuurgebied waar het heerlijk wandelen is. Het park is compleet en voor boodschappen kun je voor alles bij de supermarkt op het park terecht. In en uitschenken is supermakkelijk door het sleutelkastje wat je vrijheid geeft om ook later op de avond aan te komen.
Prettig verblijf. Mooie locatie, mooi uitzicht op de duinen. Van alle gemakke voorzien.
Goed verzorgd huisje op een mooie plek
Een geweldige locatie en een pracht huis, van alle gemakken voorzien. Het park zelf biedt ook aan kinderen vele mogelijkheden